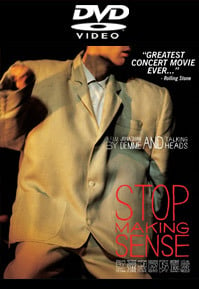 $

12.99
Acclaimed filmmaker Jonathan Demme made his documentary debut with Stop Making Sense - a groundbreaking concert film which showcased the wacky exploits of the seminal bunch of art school dropouts turned arty new wavers known as the Talking Heads.
In honor of its fifteenth anniversary, the landmark film was digitally re-mixed and re-mastered by Palm with the newest state-of-the-art Dolby technology.
When released in 1984 the critics raved:
"…a rock concert film that looks and sounds like no other," (Janet Maslin, New York Times)
"…a dose of happiness from beginning to end. Stop Making Sense is close to perfection." (Pauline Kael, New Yorker Magazine).
David Byrne walks onto the stage and does a solo "Psycho Killer." Jerry Harrison, Tina Weymouth and Chris Frantz join him for two more songs. The crew is busy, still setting up. Then, three more musicians and two back-up singers join the band. Everybody sings, plays, harmonizes, dances, and runs. They change instruments and clothes. Bryne appears in the Big Suit. The backdrop is often black, but sometimes it displays words, images, or children's drawings. The band cooks for 18 songs, the lyrics are clear, the house rocks. In this concert film, the Talking Heads hardly talk, don't stop, and always make sense.